Kente Cloth

One of the more beautiful items to come from Ghana is kente cloth. Kente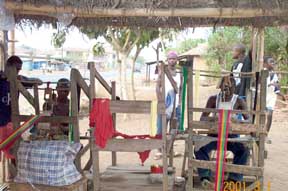 is an Asante ceremonial cloth that is hand-woven on a loom. Four inch strips are sewn together into larger pieces of cloth. Kente cloth comes in various colors, sizes and designs and is worn during very important social and religious occasions.
Kente cloth is more than just clothing to be worn however. It really represents the history, philosophy, oral literature, religious beliefs, political thought and aesthetic principles of the Ghanaian people. For this reason it is very important.

These photos are from Debra Kurshan who is currently a Peace Corps volunteer in the Upper East region of Ghana.


You may want to visit the sites below to find out more information about kente cloth.